Search engine visitors - click here to access entire "$ensible Home" web site


Please click above on this sponsor's banner to see their unique products.
Their sponsorship allows me to continue to provide my web site for you.
Thank you for your support and for visiting my web site.
---
Heating (Room) Topics
Click on the column headlines below to read the entire unedited columns and view the related illustrations. Most of my columns that you read in your newspaper or magazine have been edited due to space constraints.
Homeowner Benefits? - These are the potential benefits that a typical homeowner will realize by following the tips or by installing the home-related products that are discussed in this column.
---
421 - Mini-split ductless central air conditioners, heat pumps for efficiency, comfort


Update Bulletin Description - Buyer's guide of 10 ductless mini-split air conditioners/heat pump systems, cooling outputs (SEER), heating outputs (HSPF), efficiency ratings, comfort features, zones available, illustrations of several models, typical installations and a chart on how much you will save by installing a mini-split system.
Homeowner Benefits: Install whole-house air-conditioning without ducts, zone cool home
---
442 - Do-it-yourself solar window heater is easy to make


Update Bulletin Description - Do-it-yourself instructions, diagrams and materials list for making three differnt designs of solar window heaters, some designs include an optional summer ventilation door.
Homeowner Benefits: Lower your space heating costs, easy to make, ventilate house during summer
---
486 - Register/duct booster fans improve year-round comfort, savings


Update Bulletin Description - Buyer's guide of 14 automatic register and duct booster fan, filter and decorator register manufacturers listing design types, dimensions of the units, fan air flow ratings, electricity usage, features describing automatic and special controls, decorative finishes (registers only), illustrations of many units, and prices.
Homeowner Benefits: Boost cooling output to a hot room (summer) or heat to a chilly room (winter), more attractive registers
---
508 - Use various do-it-yourself passive solar projects at your home

Update Bulletin Description - Do-it-yourself air-type solar wall heater instructions with illustrations and required materials list, building tips for a Trombe wall, special design features for various climates (zone 1 through zone 6) and solar position charts.
Homeowner Benefits: Lower your heating costs, easy to install, good family project
---
553 - Turn your fireplace into a real heat producer with simple improvements


Update Bulletin Description - Buyer's guide of 14 manufacturers of energy efficient and decorative glass fireplace doors, heat-radiating firebacks, inflatable chimney pillows, chimney covers, chimney fans, chimney damper/draft fans, heat-circulating grates showing heat outputs, sizes, features, tips for a clean, efficient fire and fireplace safety along with illustrations with descriptions of several products.
Homeowner Benefits: More heat output, better comfort, lower utility bills, attractive
---
555 - Warm feet floor radiant heating kits for low utility bills, comfort


Update Bulletin Description - Buyer's guide of 15 warm feet water radiant floor system and kit manufacturers listing tubing material types, diameter sizes available, comfort and design features, descriptions of the most common types of tubing materials and six typical installation methods for existing houses and new construction.
Homeowner Benefits: Most comfortable and efficient, quiet heat radiates up from floor
---
594 - Remodel your bathroom with stylish, efficient, comfortable products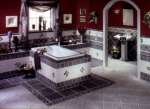 Update Bulletin Description - Buyer's guide of 14 manufacturers of efficient/comfort bathroom remodeling products: electric warm floor radiant heating, wall/ceiling radiant heat panels, hinge-mounted towel warmers, unique shower surrounds, chlorine-removing showerheads, whirlpools (describing jets, controls, comfort features), water-saving toilets, decorative quiet vent fans, tubular skylights/vents, and ceramic tile.
Homeowner Benefits: Attractive bathroom, lower energy and water costs, more comfort
---
649 - Portable, room-size humidifiers improve comfort, save money


Update Bulletin Description - Buyer's guide of 10 humidifiers, designs (tabletop, console), selector guide of various humidifier types shoqing illustration of evaporative, warm steam, steam mist, cool mist, ultrasonic, description of how the differnt types of units work, advantage and disadvantages of each type, outputs, features, humidification sizing chart and a chart showing maximum indoor humidity levels to avoid window condensation.
Homeowner Benefits:Improve indoor air quality, protect furniture from damage, lower utility bills
---
687 - New woodburning fireplaces are attractive, easy to install


Update Bulletin Description - Buyer's guide of 11 attractive, high-efficiency radiant and heat-circulating woodburning fireplaces, styles (corner, peninsula, see-through, single-sided, island), sizes, features, prices, a firewood selector guide, and wood heating evaluation worksheet to determine the relative cost of heating with wood.
Homeowner Benefits: Heat several rooms, lower utility bills, easy to install
---
699 - Small direct-vent gas, kerosene space heater for comfort and efficiency


Update Bulletin Description - Buyer's guide of the most efficient direct-vent gas, propane, kerosene heater manufacturers (55 models) listing types of heater with illustrations (wall/floor mount, counterflow wall furnace, in-floor furnace, radiant console, through the window, dual side) efficiencies, heating capacity, sizes, comfort features and cost-to-use chart, chart on selecting the correct size heater, illustrations of selected models.
Homeowner Benefits: Heat chilly room, quiet operation, lower overall heating costs
---
706 - Quiet electric space heaters have safety and comfort features


Update Bulletin Description - Buyer's guide of 10 electric space heaters, design types (oil filled, convection, radiant/quartz), heat settings, thermostats, comfort and safety features, portable electric heater safety tips, illustrations and descriptions of several models and a savings chart.
Homeowner Benefits: Heat a chilly room, lower main thermostat, safe heat
---
725 - Vent-free gas fireplaces are attractive, efficient, easy to install


Update Bulletin Description - Buyer's guide of 10 vent-free gas (natural gas, propane, alcohol-gel) fireplaces and log set manufacturers listing heat outputs, styles (bay, corner, single-sided, peninsula, see-through, six-sided), catalyst options, features, prices, illustrations, a sizing recommendation chart for each region of the country, and a cost-to-use chart.
Homeowner Benefits: Simple to install, heat one to two rooms, realistic-looking flames
---
775 - Warm your deck/patio efficiently for comfortable year-round use


Update Bulletin Description - Buyer's guide of 14 gas, propane, alcohol-gel, and wood outdoor deck/patio heaters, type (radiant infrared umbrella heater, portable log set, outdoor fireplace, portable fireplace, tank-top heater, earthenware woodburning fireplace, portable infrared heater) heat outputs, features, prices, cost to operate heater chart ($ per hour), recommended placement and area of warmth of umbrella-type radiant heaters, illustrations and features of selected models.
Homeowner Benefits: More months use of patio or deck, more comfortable on deck in spring and fall, fewer insect pests
---
777 - Wood-burning stoves are decorative, efficient, convenient to use


Update Bulletin Description - Buyer's guide of 11 wood-burning stove/fireplace insert manufacturers listing combustion type (catalytic or noncatalytic), efficiency rate, estimated max. burn time, estimated room area size it will heat, heat output, features (comfort and styling), prices, and firewood selector chart.
Homeowner Benefits: Heat one room or entire house, clean wood heat, good for environment
---
778 - Electric radiant ceiling/wall heating kits are efficient, comfortable


Update Bulletin Description - Buyer's guide of 11 electric radiant panel, film, cove, and quartz heater manufacturers listing panels sizes and cove heater lengths, wattage heat outputs at various settings, comfort controls and thermostat types available, design and installation features, illustrations of many systems and an electricity cost-to-use-per-month chart.
Homeowner Benefits: Lower electric bills, excellent comfort, good indoor air quality
---
787 - New electric fireplace kits have realistic flames, use year-round (heat off)


Update Bulletin Description - Buyer's guide of 11 electric and gel- or liquid-alcohol fuel log and fireplace kit manufacturers showing how the realistic flames and sound are created, the maximum heat outputs for winter use, the various flame settings, heat and sound controls, unique features, cost-to-use chart, prices, and many illustrations of various models.
Homeowner Benefits: Use year-round, install in minute, flames look real, efficient heat
---
816 - Direct-vent gas fireplaces have realistic flames, high-efficiency


Update Bulletin Description - Buyer's guide of 13 high-efficiency, direct-vent gas fireplaces and inserts, styles (bay, island, peninsula, see-through, single-sided, indoor/outdoor), heat outputs, efficiencies, controls, combustion air venting options, unique features, illustrations and a cost-to-operate chart.
Homeowner Benefits: Easy-to-add gas fireplace, remote controls for convenience, efficient heat
---
880 - Corn/pellet heaters are efficient, convenient to use


Update Bulletin Description - Buyer's guide of 14 corn/wood pellet heaters, types (freestanding and fireplace inserts), heat outputs, hopper capacity, heating capacity listed in square feet, burn time in hours, vent options, auger/feed design, features, illustrations, descriptions of the types of pellet appliances, and a fuel cost (corn, pellets, gas, propane, electricity, oil, wood) comparison chart.
Homeowner Benefits: Heat one to two rooms, clean, smoke-free heat, good for environment
---
888 - Electric warm floor radiant heating is comfortable, easy-to-install


Update Bulletin Description - Buyer's guide of nine electric warm floor systems for bathroom or any room showing descriptions of the design types, sizes of the mat, cable, films, etc., heating wattage outputs per foot length or sq. foot, automatic/thermostatic comfort controls, illustrations of many design types, and connection and under-tile installation instructions.
Homeowner Benefits: Excellent comfort, low installation cost, do-it-yourself installation, good indoor air quality
---