Search engine visitors - click here to access entire "$ensible Home" web site
"Direct-vent gas fireplaces have realistic flames, high-efficiency"
Click here to see a descriptive illustration of how several direct-vent fireplaces work.
Related links - Fireplace Usage and Safety Tips
Dear Jim: I want to add a gas fireplace to my living room. I want it to be efficient and open so I can hear the flames. I have allergies, so I don't want a ventless one. What is the best design to meet my needs? - Bill R.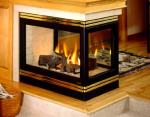 A: New designs of gas fireplaces are efficient and have realistic flames, but they are not open. When you open a fireplace, gas or wood-burning, it becomes inefficient. The room with the fireplace stays warm, but heated air from the rest of your house is sucked up the chimney.
If you really want to have the fireplace open and not lose huge amounts of energy, a vent-free fireplace is your only option. They produce much indoor moisture and can only be use for a limited amount of time each burn. Also, in some areas of the country, using one violates codes.
I think a direct-vent gas fireplace is your best option, even though you use it with the glass front closed. You will quickly get used to viewing the flames through the glass front and you will certainly be much more comfortable than with an open fireplace. By using the fireplace and setting your furnace thermostat lower, you should notice lower utility bills.
Direct-vent fireplaces are also easy to install. Only one flue pipe is needed through an outside wall. It is a double concentric pipe which exhausts the flue gases out the center and brings in outdoor combustion air around it. This totally isolates the combustion process from the room air.
With the sealed direct-vent design, you will not have to sit directly in front of the fireplace to stay warm. Selecting a model with a hand-held remote control will allow you to start the fire, control the blower speed, flame appearance, heat output, and room temperature from your easy chair.
If your area often has electric power outages due to storms or whatever, select a model with millivolt controls. The heat from the flames generates enough electricity to power the controls and keep the fire going even when the power goes off. On a frigid winter night, this can be enough heat to keep pipes from freezing.
If you are doing the installation yourself, a zero-clearance model would be best. These are designed and insulated such that the exterior surfaces stay cool and they can be installed almost anywhere without becoming a fire hazard. If your room already has a chimney, you can vent it through there or the floor.
There are many attractive styles of direct-vent fireplaces available so don't limit yourself to a standard flat front design. Let your creative juices flow and see if there is a way to use a see-through (between two rooms), a bay, a three-faced peninsula design, or an indoor/outdoor model through an outside wall. Add 24-karat gold or nickel trim for a decorative touch.
Instant Download Update Bulletin No. 816 - buyer's guide of 13 high-efficiency, direct-vent gas fireplaces and inserts, styles (bay, island, peninsula, see-through, single-sided, indoor/outdoor), heat outputs, efficiencies, controls, combustion air venting options, unique features, illustrations and a cost-to-operate chart.
Dear Jim: I have a sunroom and I thought about installing some type of shading to block the afternoon sun. I have some old vertical blinds from another room. Is this type of shade good for sunrooms? - Thomas R.
A: The purpose of having a sunroom is to have access to the sun, but too much sun can be a problem. Overheating during the summer and excessive glare year-round are the worst problems and shading can help.
Vertical blinds would be a good choice. The slats are wide enough to allow them to be partially opened for ample light without the glare from direct sun. They can also be pulled to one side for unobstructed sun.