Search engine visitors - click here to access entire "$ensible Home" web site
"Warm your deck/patio efficiently for comfortable year-round use"
Click here to see a descriptive illustration showing several types of new deck/patio heaters.
Related links - Do-It-Yourself Deck Design Construction Guide
Dear Jim: I enjoy using my deck and patio in the chilly fall weather, but my electric space heater does not eliminate the chill. What type of heater is best to provide several more months of deck use - Jeri R.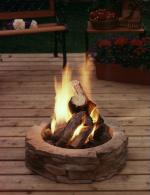 A: Heating an entire patio or deck is not a good use of our limited energy supplies and it adds to greenhouse gas and air pollution problems. Try to get by with jackets and sweaters and only use auxiliary heat as a last resort. Adding a windbreak wall or fence will often help tremendously.
If you find you still need some heat, use a spot heater that warms only the small area where you are sitting. There are many attractive and effective models designed specifically for residential patio/deck use. These use natural gas, propane, wood, or alcohol-gel as the fuel source.
All of the effective patio/deck heaters use a radiant heat design. Instead of trying to heat the air around the deck, radiant heaters warm people and objects, similar to how the sun feels warm on a clear cold winter day.
For quick heat, a natural gas or propane heater is best. If you know ahead of time you will be outdoors, a woodburning heater is fine. Burning wood produces no net greenhouse gases (trees use carbon dioxide as they grow).
Propane and natural gas patio/deck heaters are not expensive to operate. Natural gas models are the least expensive to operate, but propane models provide better portability. Depending of the heat output level you set, a standard grill-type propane tank can provide 10 to 12 hours of heat.
For heating a large area (when entertaining), a tall umbrella-style heater with a pushbutton starter is effective. These are mounted on an eight-foot column with a reflector on top and a tank (propane models) in the base.
If your deck has a cover or partial roof, you can select an umbrella model that hangs from it. This allows you to locate the propane tank or gas line in an out-of-the-way location. They are often white, also available in custom colors and stainless steel. Mini-tabletop models are also available.
Small unidirectional propane heaters are very effective for heating just one or two people sitting together. The radiant heater burner is mounted directly on top of the propane tank. These are also ideal for camping. Alcohol-gel (made from corn) models light quickly and burn very cleanly.
Woodburning models are the least expensive to buy and operate. Potbellied chimeneas (wood or gas) are effective, but require a while to warm up. Collapsible models, with screen sides, provide fairly quick heat and can easily be moved on its rollers. To extinguish the wood fire, you lower the top.
Instant Download Update Bulletin No. 775 - buyer's guide of 14 gas, propane, alcohol-gel, and wood outdoor deck/patio heaters, type (radiant infrared umbrella heater, portable log set, outdoor fireplace, portable fireplace, tank-top heater, earthenware woodburning fireplace, portable infrared heater) heat outputs, features, prices, cost to operate heater chart ($ per hour), recommended placement and area of warmth of umbrella-type radiant heaters, illustrations and features of selected models.
Dear Jim: My house does not have a basement. Gas has recently become available in my area and the contractor recommends putting the furnace/air conditioner in the attic. Does this make sense? - Steve P.
A: This does make sense. In many areas of the country, the furnace and air handler (blower unit) are located in the attic. With a single-story house, this makes it easy to run the ducts to the rooms below.
Even though the attic gets hot during the summer, this works well for air-conditioning too. The compressor unit is still located outdoors. Make sure all the ductwork is adequately insulated when it is installed.