Search engine visitors - click here to access entire "$ensible Home" web site


Please click above on this sponsor's banner to see their unique products.
Their sponsorship allows me to continue to provide my web site for you.
Thank you for your support and for visiting my web site.
---
Bathroom Topics
Click on the column headlines below to read the entire unedited columns and view the related illustrations. Most of my columns that you read in your newspaper or magazine have been edited due to space constraints.
Homeowner Benefits? - These are the potential benefits that a typical homeowner will realize by following the tips or by installing the home-related products that are discussed in this column.
---
429 - DIY kits to get hot water to bathroom faucets in seconds


Update Bulletin Description - Buyer's guide of seven manufacturers of quick-delivery hot water kits showing types of controls (timer, demand button, remote controls), prices, installation instructions, detailed product descriptions, illustrations, and six manufacturers of tiny point-of-use electric water heaters showing water capacities, first hour hot water ratings and sizes.
Homeowner Benefits:Get hot water to any bathroom faucet in seconds, cut water and heating bills
---
464 - Install a new, efficient hydromassage spa kit on your deck or patio


Update Bulletin Description - Buyer's guide of the nine best spas, tub material (cast acrylic, vinyl), seating capacities, description of jet types (massaging or invigorating) and specialty seats, type of cabinets, comfort features, illustrations of models, warranties and a monthly energy usage cost chart.
Homeowner Benefits: Comfortable hydromassage, great for entertaining
---
546 - Convert your toilets yourself to water-saving ones with low-cost kit


Update Bulletin Description - Buyer's guide of 8 toilet water-saving flush kits, flappers, dual-flush, diverters, water dams, installation instructions, annual savings of water/sewage chart by converting a toilet to a water saver, tips for conserving water in the bathroom, solutions to common toilet problems, descriptions and illustrations for several products.
Homeowner Benefit: Easy to install, lower water bills
---
594 - Remodel your bathroom with stylish, efficient, comfortable products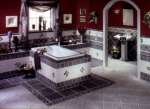 Update Bulletin Description - Buyer's guide of 14 manufacturers of efficient/comfort bathroom remodeling products: electric warm floor radiant heating, wall/ceiling radiant heat panels, hinge-mounted towel warmers, unique shower surrounds, chlorine-removing showerheads, whirlpools (describing jets, controls, comfort features), water-saving toilets, decorative quiet vent fans, tubular skylights/vents, and ceramic tile.
Homeowner Benefits:Attractive bathroom, lower energy and water costs, more comfort
---
603 - Home-sized steam room kits are comfortable, easy to install


Update Bulletin Description - Buyer's guide of 12 steam generator/room kit manufacturers listing kilowatt usage, controls available, features, aroma therapy options, illustrations of models, prices, guidelines for sizing your steam room and steam room design tips and considerations.
Homeowner Benefits: Comfort, relaxation, easy to install
---
631 - New designs of toilets flush effectively with less or no water

Update Bulletin Description - Buyer's guide of 13 new, low-water usage toilets, types, shapes (round front, elongated bowl) styles (one- or two-piece), water usage (gallons per flush), colors, features, water/sewage savings chart, description of the types of toilets (composting, compressed air-assisted, gravity-flush, incinerating, liquefier, pressure-assisted, pump-assisted or vacuum-assisted), many illustrations of various types.
Homeowner Benefits: More attractive appearance, save water, quieter flush.
---
678 - Tankless water heaters for endless showers, energy savings


Update Bulletin Description - Buyer's guide of 16 manufacturers (60 models) of gas and electric instantaneous water heaters showing model names/numbers, voltage required, hot water flow rates at various temperatures for comparison, features including controls, sizes, sizing flow rate chart and illustrations of unique models.
Homeowner Benefit: Unlimited hot water for morning showers, reduced water heating costs
---
692 - Shower/bath water filters remove harmful and skin drying chlorine


Update Bulletin Description - Buyer's guide of efficient shower and bathtub water filters, filter types (KDF media, activated carbon, carbon block), element life, dimensions, weights, features, prices, installation instructions and diagrams, many illustrations of various models.
Homeowner Benefits: Less dry hair and dry skin, less chlorine absorbed by your body
---
800 - Home-size sauna kits are easy to install and available in many sizes


Update Bulletin Description - Buyer's guide of 11 sauna kits, styles ( modular, outdoor, portable, precut) size range and height, materials, designs, heaters, controls, standard accessories, features, sauna use and helpful tips, installation instructions for a portable sauna, illustrations for a complete modular and precut package.
Homeowner Benefits: Easy-to-install small kits, healthy and comfortable
---
862 - New attractive whirlpool baths provide a relaxing hydro-massage


Update Bulletin Description - Buyer's guide of 12 whirlpools and air jet tubs, water capacity ranges, shapes, number of jets, tub materials and descriptions (acrylic, gelcoat, cast iron, soft-sided tub), pump power, features, prices and illustrations with features and descriptions on several models, tips on using a whirlpool tub.
Homeowner Benefits:Relax after work, therapeutic for sore muscles, easy to install
---
877 - Super-quiet bathroom vent fan/lights have most efficient features


Update Bulletin Description - Buyer's guide of the11 most-quiet, full-featured bathroom vent fan/lights showing air flow ratings, sound level ratings, lighting options, various automatic sensor options, other features, sample installation instructions, illustrations of many of the models and a recommended sizing chart.
Homeowner Benefits: Quiet operation, vent bathroom efficiently, convenient automatic features
---
888 - Electric warm floor radiant heating is comfortable, easy-to-install


Update Bulletin Description - Buyer's guide of nine electric warm floor systems for bathroom or any room showing descriptions of the design types, sizes of the mat, cable, films, etc., heating wattage outputs per foot length or sq. foot, automatic/thermostatic comfort controls, illustrations of many design types, and connection and under-tile installation instructions.
Homeowner Benefits: Excellent comfort, low installation cost, do-it-yourself installation, good indoor air quality
---
938 - Towel warmers and small bathroom heaters for comfortable morning showers


Update Bulletin Description - Buyer's guide of 16 towel warmer and bathroom heater manufacturers, styles, sizes, types (electric, hydronic, gas) comfort features, a sizing chart and illustrations with descriptions and features of selected models.
Homeowner Benefits: Comfortable warm towel after bathing
---
978 - Recycle greywater to water lawn, cut water/sewage bills


Update Bulletin Description - Buyer's guide of nine greywater and heat-recovery water system manufacturers, sizing and payback information, system diagrams, guidelines for choosing a system, chart showing quality of various greywater sources, schematic diagram of an automatic system, and water conservation tips.
Homeowner Benefits: Lower water/sewage bills, improve landscaping, conserve our water resources
---