Search engine visitors - click here to access entire "$ensible Home" web site
"Install a new, efficient hydromassage spa kit on your deck or patio"
Click here to see a descriptive illustration showing several types of new efficient spa kits.
Dear Jim: A dip in a hydromassage spa on my deck would be wonderful after work, but do they use a lot of energy? What comfort and efficiency features are most important when buying one? - Ann J.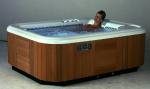 A: With the fast-paced, high-stress lifestyles of today, installing an outdoor hydromassage spa on a deck is becoming a common home improvement project. It often becomes a year-round gathering place for family members in the evenings and becomes a focal point when entertaining guests.
A high-quality four-person spa built into a deck uses from $10 to $20 of energy per month to keep the water warm and to operate the massaging air and water pumps. The exact increase in your utility bills depends on your climate, quality of the spa and how often you use it.
In the industry, these residential spas are referred to as "portable spas" because of the simplicity of installation. Most are sold in a complete kit form that includes the cabinet, tub, jets, pumps, controls, accessories, etc. These kits can be easily disassembled and set up in a new location.
All of the plumbing is self-contained, so you just fill the spa with a garden hose and plug in its electric cord when you complete assembling the kit. They have built-in filters and you should consider an optional ozone or ion purification feature to minimize the need for harsh chemicals.
There are significant differences in quality and features among spa models, even though most look similar. Cast acrylic tubs are attractive, low-maintenance and durable. Polybond foam tub inner shells are used for a comfortable, cushioned feel in lightweight (60 pounds) models on casters.
Some high-quality spas use an efficient heat recovery pump motor design. These motors have special jackets to recover waste motor heat and use it to warm the water or jet air. This reduces on-time required of the heaters.
Compare the number and types of massaging jets in the various models. The variety is almost endless - rotating, cluster, sweeping for backs, legs, feet, even individual finger jets. Adjustable (direction and intensity) jets and ones that are interchangeable provide more massage variations.
For most families, select at least a four-person-size spa. This allows you to customize each of the four positions with different jet types to massage various parts of your body. Automatic electronic controls are the most convenient and accurate and many offer a tamperproof option (for children).
Some other features to consider are a cascading waterfall, cushioned pillows, retractable insulated cover, built-in surround sound speakers, aromatherapy system, and fiber optic lighting.
Instant Download Update Bulletin No. 464 - buyer's guide of the nine best spas, tub material (cast acrylic, vinyl), seating capacities, description of jet types (massaging or invigorating) and specialty seats, type of cabinets, comfort features, illustrations of models, warranties and a monthly energy usage cost chart.
Dear Jim: I have been looking at ceiling fans at my home center store. I was considering getting an expensive one with variable speeds or a separate variable-speed control. Is this worth the extra expense? - Ken Y.
A: Usually just three speeds are adequate for a ceiling fan. Medium- and high-speed are used when you are cooling during the summer. During the winter, use the lower speed in the reverse rotation to blow air upward.
From comfort and efficiency standpoints, it does not make much sense to spend a lot more for a variable speed feature. A separate variable-speed control is an option, but they sometimes make the fan motor hum.