Search engine visitors - click here to access entire "$ensible Home" web site
"Home-sized steam room kits are comfortable, easy to install"
Click here to see a descriptive illustration showing a steam room kit and steam generator.
Dear Jim: I think it would be nice and healthy to have a mini-steam room in our bathroom or bedroom. Are do-it-yourself home-size kits available or can I can build one myself? Will it cost a fortune to run one? - Art H.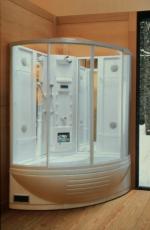 A: Installing a home-size steam room is becoming more popular. People are spending more time at home and are more concerned about picking up colds or the flu from steam rooms in health clubs. This is especially true for a steam room because of its warm, moist environment.
There are many steam room options available you for use at home. Obviously the simplest and quickest way to add one is to install a complete kit. A lower-cost option, particularly if you are a do-it-yourselfer, is to buy the steam generator and controls and build the enclosure yourself.
The energy cost to operate a steam room is not as great as you might imagine. Since one is usually used only during the winter, the heat produced helps to warm your home. The moisture given off is also helpful. After a steam bath, a cool shower is common so less hot water is used.
If your budget is unlimited, go all the way with a combination steam room enclosure/shower/whirlpool. You can take a steam bath first, then a massaging whirlpool bath and finish with a shower from eight nozzles. Some complete systems include televisions, DVD players, surround sound, mood lighting, etc.
For the rest of us, many smaller reasonably priced steam room kits are available. Small corner-style models are ideal for a bathroom or a bedroom. They take up little space yet can provide a comfortable steam bath. They include a steam generator, enclosure, fold-down seat and padded head rest.
There are also larger, two- or four-person models available and they are sometimes called steam suites. Most often, they are rectangular in shape and have glass sides with multiple seating and a larger generator.
Building a steam room yourself is not a difficult project because you can purchase many steam room components. Tightly sealed glass doors are important to contain the hot steam. Complete steam generator and outlet units with a built-in mirror and soap dishes are designed to fit between wall studs.
It is important to match the steam generator to the steam room. If the generator is too large, it will be difficult to control the temperature. If it is too small, it will take too long to produce enough steam. For example, a 100 cubic foot steam room should use a five-kilowatt generator.
Some things to consider are a domed top so the condensed water does not drip. Acrylic or fiberglass walls are most efficient and programmable, digital controls are most convenient. Optional aroma therapy steam nozzles are available.
Instant Download Update Bulletin No. 603 - buyer's guide of 12 steam generator/room kit manufacturers listing kilowatt usage, controls available, features, aroma therapy options, illustrations of models, prices, guidelines for sizing your steam room and steam room design tips and considerations.
Dear Jim: I removed paneling from a room and plan to paint the walls. The drywall underneath is fine except for the strips of adhesive still on it. What is the best method to remove the adhesive for painting? - Nick G.
A: There are solvents and cleaners that will remove the adhesive, but they are often petroleum based and may make it difficult to ever paint the surface again. Try several of them in an obscure spot and then try painting.
A effective method, but one that requires more elbow grease, is to scrape off the old adhesive with a wide-blade scrapper and then sand it smooth. You will no doubt dig into the drywall in spots, so get some spackling compound.