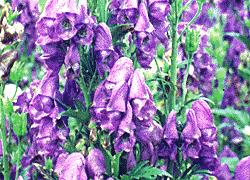 Plant Type: Perennial
Uses: Border, Cutting Bed, Mixed Bed
Propagation: Division, Seeds
Habit: Upright
Light: Part Shade
Flower Color: Blue, Lavender, Mauve, Yellow
Blooms: Summer, Autumn
Width: 2 - 4 ft.
Height: 2 - 6 ft.
Fertility: Moderately Rich
Soil: Neutral, Moist, Well-drained
Zone: 3 - 8
Hardy Perennial. This plant can grow to an impressive height of up to 6 feet. Blooms are usually a deep azure blue and are clustered thickly along tall flower spires. This perennial likes a moist, well-drained soil in a partly shaded area. It is very long-lived. The leaves are three-lobed and the lobes are often notched providing a lovely backdrop for the flowers. Looks best in the perennial border when it is grouped in threes or in larger masses. All parts of the plant are poisonous.