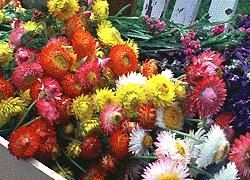 Plant Type: Annual
Uses: Dried Arrangements, Border, Rock Garden, Cutting Bed
Propagation: Seeds
Habit: Upright
Light: Full Sun
Flower Color: Various
Blooms: Summer
Width: .75 - 1 ft.
Height: 3 ft.
Fertility: Moderately Rich, Average
Soil: Neutral, Well-Drained
Zone: 1 - 11
Attracts: Birds, Squirrels
Hardy Annual. Strawflower, or Everlasting, is an easy plant to grow, with yellow, orange, pink, deep rose, red, wine, magenta, purple, or white blooms. The true petals are found in the center of each flower and they are surrounded by colorful, straw-like bracts. The flowers bloom from summer to early autumn. Harvest flowers for drying before they open fully and hang them upside down in cool, dark place. Seeds need light to germinate; plant in porous soil. They prosper during hot summers, but high humidity or continual damp may cause stem rot. 'Harvest' is pictured.