Search engine visitors - click here to access entire "$ensible Home" web site
"Do-it-yourself drip watering kits are easy to install, save water"
Click here to see a descriptive illustration of a layout of a complete drip watering system.
Dear Jim: I have gardens and beautiful landscaping at my home. I hate to waste time watering and I want to try to reduce my water bills. What type of automatic watering system is best and easiest to install? - Liz F.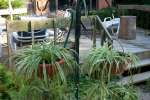 A: Proper watering of a garden and landscaping with various types of plants can take a lot of time. It is also difficult to get the proper amount of water to each plant to meet its specific needs. Using a sprinkler usually ends up overwatering many plants which may cause fungus problems.
Installing an automatic drip watering kit is your best choice. It allows you to control the amount of water each plant gets while using up to 70 percent less water than standard sprinklers. With sprinklers, much of the water evaporates before it reaches the ground.
These kits are easy to install yourself. A one-quarter or one-half-inch hose is buried just underneath the mulch or soil so it is hidden from view. At each plant, one or more tiny emitters (drippers) are attached to the hose.
With some kits, you cut the hose and insert the dripper in between the ends. With other kits, you poke a hole in the hose and snap the dripper over the hole. Tiny manifolds split the primary hose into many smaller hoses to reach all the plants in your gardens and landscaping.
The tiny drippers are inexpensive and are available in different flow rates (often color coded). A medium-size flowering plant may require a one-half gph (gallon per hour) dripper whereas trees many need one or several 2-gph drippers.
For the most automatic watering, install a control that operates from a ground moisture sensor. Automatic timed controllers are also available. The simplest and least expensive option is a manual control. This is as effective, but resist the temptation to run it too often resulting in overwatering.
Along with your drip watering kit, you will probably want to install some foggers, micro-sprinklers and weighted drippers. Weighted drippers are ideal for hanging baskets. Each dripper is weighted and hangs from a tiny tube that is hidden in the foliage. It drips directly into the pot.
Foggers (sometimes called misters) produce a very fine cloud of moisture at various plants. The water settles down to moisten the soil for the roots and also cools and moistens the foliage. Some plants require this. A micro-sprinkler can simultaneously water several plants in a flower garden.
You can supplement any of these watering kits with a soaker hose. This allows you to drip water a larger area and to be able to easily move it.
Instant Download Update Bulletin No. 999 - buyer's guide of 12 drip watering system manufacturers describing each system, kits and accessories (drippers, foggers, micro-sprinklers) available, typical landscaping drip watering layout, planning tips for a drip watering system, and a chart showing different types of plants and soils, watering amount/frequency and suggested system.
Dear Jim: I used part of the utility room when enlarging the bathroom. The dryer is further from the outdoor wall now. The dryer manual mentions the maximum dryer duct length and bends in the duct. Why are bends important? - Pat H.
A: Clothes dryers operate much more efficiently and effectively when they have the proper amount of air flow through them. When the dryer duct becomes longer than the design length, air flow resistance increases.
When air has to make bends in the duct, this causes additional resistance. The maximum allowable duct length is figured on one or two bends (see your manual). If you have more bends, the duct must be shorter.