Search engine visitors - click here to access entire "$ensible Home" web site
"Select the best replacement windows (style, frame, glass) for your home"
Click here to see a descriptive illustration of eight styles of replacement windows.
Dear Jim: I need to replace my drafty, hard-to-clean windows sometime soon. After listening to salesmen's pitches and reading promotional literature, I am even more confused. What are the best styles, frames and glass? - Mic W.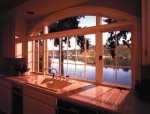 A: It is not surprising that you are confused. My mother recently had replacement windows installed. I sat quietly and listened to all the sales pitches without the salesman knowing who I was. Some of the efficiency and maintenance claims were so far off, it was almost criminal.
The heart of any window is the type of glass that is installed. The glass type influences the energy efficiency, glare, furniture fading, comfort during winter and summer, and the view into and out of your home. Insulating values of thermal glass panes can range from R-2 to R-8.
Low-emissivity (low-e) glass is the minimal quality you should consider. A microscopically thin, invisible low-e coating keeps heat indoors during the winter and heat outdoors during the summer. The low-e coating sometimes makes the windows slightly reflective, but it is barely noticeable.
There are two types of low-e coatings: soft or hard coat. Soft coat is slightly more effective than hard coat. With either type, the low-e coating is applied on the protected glass surface facing the air gap. Whether it should be placed on the indoor or outdoor pane depends on your climate.
For more energy efficiency, fade resistance and soundproofing, the low-e coating can be applied to two glass surfaces and dense inert gases can be used in the gap. For the highest efficiency, use triple- and quad-pane glass or glass with multiple layers of clear film in the air gap.
Frame material is also important. If you measure the window opening, the window frame accounts for a substantial percentage of the total opening area. The most common frame materials are vinyl, aluminum and fiberglass.
Fiberglass is the best material for all climates because of its strength, low-maintenance and the thermal expansion is similar to the glass panes. Vinyl is effective in moderate and cold climates. Thermally-broken aluminum frames are effective in all climates, but particularly in moderate and warm areas.
With vinyl frames, select welded sashes because they are the strongest. The internal frame channels provide insulating dead air spaces, but for cold climates, consider vinyl frames with optional injected foam insulation.
The tightest sealing and most efficient windows styles (casement, hopper, awning, tilt-turn) use long-lasting compression-type weatherstripping. For the easiest cleaning from indoors, double-hung windows that tilt in are best.
Instant Download Update Bulletin No. 977 - replacement window selector guide for styles with descriptions/illustrations (awning, bay, bow, casement, corner or curved, fixed, hopper, single and double-hung, slider, tilt-turn, tilt and slide) considerations for frame materials (wood, wood clad, vinyl, aluminum, fiberglass, composites) and considerations for glass types and materials, guidelines for choosing a window for various climates and a selected list of 10 replacement window manufacturers.
Dear Jim: We have a framed house and I noticed some gaps where the walls meet the foundation. It is difficult to tell if they go all the way through. Should I use regular caulk or insulating foam to seal them? - Gary E.
A: The area you are referring to is called the sill plate and it is a common area for air infiltration into a house. If the gaps are narrow, use silicone caulk. For wide gaps, use a can of insulating foam.
It is wise to seal those gaps around the outside of the house too. Regular caulk will hold up pretty well to the sun's rays. The insulating foam must be coated or shaded in some way otherwise the sun's rays will degrade it.