Search engine visitors - click here to access entire "$ensible Home" web site
"Wood windows are efficient, attractive, easy to clean/maintain"
Click here to see a descriptive illustration of several designs of new wood windows.
Related links - Common Paint Troubleshooting Guide
Dear Jim: My old wood windows are leaky, hard to clean and I imagine they drive up my utility bills. I like the look of wood and plan to install new ones. What should I look for in replacement wood windows? - Stephen M.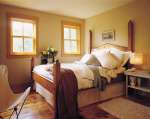 A: Many people prefer wood replacement windows because they are a very attractive frame material and the most versatile. The frames can be painted, stained or just left natural. Also, because of the ease of milling wood, it is possible to make complex and ornate frame profiles.
Installing replacement windows with any frame material will cut your utility bills. Wood is somewhat of a natural insulator with its millions of tiny cells. The majority of the energy savings from new windows comes from more efficient glass and their airtightness, not from the frame material.
In addition to saving energy, installing new windows with efficient glass will reduce the fading of furniture, curtain and carpeting. This can be a significant long-term savings. Your house should stay cleaner indoors due to less air infiltration. Humidity levels will also be easier to control.
New wood windows require some maintenance over their lifetime, but it is minimal. The new finishes, clear or colored, are very durable (some windows have a 20-year warranty). For the least maintenance, select windows with aluminum or vinyl cladding on the exterior. Since aluminum cladding is painted, a large array of standard and customized colors are available.
Most wood replacement windows use frames made of western pine. This wood has excellent performance properties for windows and is reasonably priced. Some manufacturers offer other attractive wood options such as teak, white oak, cherry, cedar, maple, fir, etc. for an elegant look.
The best type of glass depends on your area of the country, its use and orientation to the sun. Window glass with a low-e coating is efficient and blocks more of the sun's fading rays. Filling the gap between the panes with inert argon gas adds about another R-1 insulation to the window. It also blocks more outdoor noise. Tinting one of the panes is often helpful in the South.
Although the type of glass has the greatest impact on savings and noise reduction, the style of window is also important. Casement, awning and hopper windows, which close on compression weatherstripping, are most airtight. Double-hung and sliders use friction-fit weatherstripping.
For ease of cleaning though, double-hung windows are the winner. Most replacement double-hung windows are designed to tilt in for easy cleaning. Slider window sashes can generally be lifted out for cleaning both sides. Tilt/turn windows, popular in Europe, are also easy to clean and secure.
Instant Download Update Bulletin No. 974 - buyer's guide of 12 efficient, low-maintenance wood window manufacturers listing styles with illustrations (awning, bay, bow, casement, French casement, double-hung, slider, geometric shapes, fixed units, tilt turn), wood types, frames ( solid wood, vinyl-clad, aluminum clad), colors, glass options, illustrations, warranties and features.
Dear Jim: I had a problem with a severe roof leak and the plaster ceiling in my living room is badly damaged in quite a few spots. I have worked with drywall many times, but never plaster. How should I fix it? - Ed N.
A: First, make sure you determine the cause of the roof leak and have it properly repaired. If you have not plastered before, don't attempt it yourself. It takes a lot of experience and skill to do it properly.
Since you have experience with drywall, just attach a layer of drywall under the ceiling. You will lose only about one half inch of headroom. This will cover those bad spots and any fine cracks common in plaster surfaces.