Search engine visitors - click here to access entire "$ensible Home" web site
"New sliding and hinged glass patio doors are attractive, efficient"
Click here to see a descriptive illustration showing several unique designs of high-efficiency glass patio doors.
Dear Jim: I should replace my old sliding glass patio door. I feel a draft and hear road noise through it, it sweats during winter and doesn't slide smoothly. What features and options should I consider in a new one? - Ted K.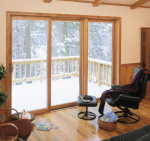 A: An old sliding glass patio door, even if it has standard double-pane glass, can be one of the biggest energy wasters in a home. Air leakage around the door is often the worse culprit. This is particularly true during the summer when warm moisture-laden air leaks indoors through it.
You will be surprised at all the new features and styles available. The energy efficiency of the glass is as high as R-10 and airtightness is higher than ever. This also reduces noise from outdoors. Security of patio doors, a common target of thieves, has also been improved dramatically.
Much design attention has been given to styling. French- (Freedom) style patio doors are increasingly popular. With wider rails and stiles on the door frame, these sliding doors are strong and simulate double-hinged ones. Optional matching grids can be added over the glass for more style.
Sliding glass doors cover a large span, so the strength of the frame is critical. Typical frame material options for replacement sliding glass doors are fiberglass, vinyl, wood, vinyl or aluminum-clad wood, and aluminum.
Fiberglass is one of the best materials for sliding glass door frames. This is made with a pultruded process which is different from how boat hulls and car bodies are produced. Pultrusion combines long glass fibers with strong resins to create a very strong, almost indestructible frame for the glass.
A fiberglass frame expands and contracts with temperature changes (hot summer sun to cold winter nights) at a similar rate as the glass panes. This reduces stresses within the door. For a wood appearance, select one with a real oak veneer over the fiberglass.
Vinyl is another low-maintenance material frame material to consider. Its color goes completely through the frame, so it looks good even with small scratches. Look for fusion-welded corners and ball-bearing steel or nylon rollers. Vinyl or aluminum cladding over a wood frame minimizes its outdoor maintenance. Aluminum frames should have a thermal break.
The type of glass is key to efficiency. As a minimum, select double-pane low-e glass. For hot climates, you may prefer to have one tinted pane. For cold climates, triple-pane low-e glass with krypton gas is most efficient.
A multipoint lock feature is good for added security. With a strong frame, this makes it difficult to pry the door open. Double hinged doors, that resemble sliders, are also a good choice for added security and efficiency.
Instant Download Update Bulletin No. 939 - buyer's guide of 15 premium quality fiberglass, vinyl and wood sliding glass (standard sliding or French sliding) and hinged patio door manufacturers , heights, widths, glass options, hardware (locks, handles, hinges, etc.), frame colors, decorative and security features/options.
Dear Jim: We are installing a new furnace and central air conditioner. We would like a system that automatically changes the humidity level depending on the outdoor temperature. Is this possible? - Keri M.
A: Some of the new thermostats have outdoor temperature monitors to provide input to control the furnace and air conditioner. Check with the manufacturers to find one which will also vary the humidity level automatically.
During the winter, it is best to lower the indoor humidity level as the outdoor temperature drops. On cold days, with the indoor humidity level set high, the windows will sweat and you many have some mold and allergy problems.