Search engine visitors - click here to access entire "$ensible Home" web site
"Fiberglass replacement windows are efficient, maintenance-free"
Click here to see a descriptive illustration of several designs of fiberglass windows.
Dear Jim: I have gotten quotes on replacement windows. I like no-maintenance fiberglass frames, but they cost more than vinyl or aluminum. Are there real advantages to installing windows with fiberglass frames? - Joe S.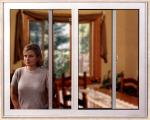 A: In my opinion, fiberglass windows are worth the extra initial expense. You can get some relatively inexpensive vinyl and aluminum windows. If you compare the fiberglass windows to top-quality, name-brand windows using other frames materials though, often the cost is not much higher.
Fiberglass windows are grabbing a bigger share of the replacement window market every year. A decade ago, only a handful of northern and Canadian companies offered fiberglass windows because of their high energy efficiency. Today, some of the major name-brand manufacturers are offering them along with their existing line of standard replacement windows.
Fiberglass is the strongest window frame material available other than metal which is not a natural insulator. The frames are made of about 75 percent glass fibers and 25 percent resin. The glass fibers are made from silica sand which is melted and spun. Silica sand is in abundant supply.
Another advantage of a fiberglass frame is it reacts to outdoor temperature changes much like glass panes do. This makes the entire window system and weatherstripping more airtight. Internal stresses are reduced because all the components are expanding and contracting at about the same rate.
The pultrusion process, by which most fiberglass windows frames are made, is different than for making boat hulls. For the frames, long glass fibers are pulled through a die (similar to a cookie cutter) and coated with resin. It is a thermoset resin so once it sets up, heat cannot weaken it. For dark colored frames exposed to the hot southern sun, this is an advantage over vinyl.
Fiberglass is maintenance-free and will never crack, split or warp, even in humid climates. If you prefer the indoor look of natural wood, you can order fiberglass frames with a real wood veneer of hemlock, oak, cherry, etc. The veneer is permanently bonded to the indoor surface of the frame.
Fiberglass frames are painted at the factory. There are usually three to five standard colors available with custom colors at a slight surcharge. Spilt colors (different indoors and outdoors) are also available. Fiberglass is easy to paint yourself, so you can change the color anytime.
The hollow fiberglass frame is an effective natural insulator, but you can select ones with additional foam insulation inside the frames. Since you are considering high-quality windows, pay a little extra for the most efficient glass options such as low-e argon, triple-pane or Heat Mirror.
Instant Download Update Bulletin No. 926 - buyer's guide of 11 high-quality and efficient fiberglass window manufacturers listing styles shown with illustrations (awning, bow, double hung, casement, slider, picture, single hung), glass options, frame colors, features, double-hung window installation instructions and illustrations with descriptions of several products.
Dear Jim: I have new gutters and gutter guards on my house. The guards are permanently snapped on. I noticed little tree seeds hanging under the guard lip and some mildewed spots. Are these also filling up the gutters? - Dave U.
A: With good-quality gutter guards, there should be no buildup inside the gutters. A little moist dirt may hang under the edge of the guard and may mildew during some excessively rainy periods.
All of the larger debris on your roof will slide over the edge of the gutter and fall to the ground. Any of the tiny pieces which get carried into the gutter with the rainwater will wash down the downspouts.