Search engine visitors - click here to access entire "$ensible Home" web site
"Rolling window/patio door shutters for security, privacy, efficiency"
Click here to see a descriptive illustration showing several designs of rolling shutters.
Dear Jim: Our house has many windows for openness, but we don't feel secure and we lack privacy. Also a window was blown in during a storm last year. Will installing disappearing-type rolling window shutters help? - Bob M.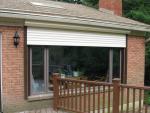 A: Installing rolling window shutters will accomplish all your goals and cut your utility bills as an added bonus. They have been popular for decades in coastal areas prone to hurricanes. Now with more security and efficiency concerns, their popularity is growing throughout the country.
I recently installed a Roll-a-way (www.roll-a-way.com) shutter over a large picture window in my family room of my own house. With tornadoes in our area, I feel more comfort sitting by the window during a storm with the shutter down for protection. Mine is operated by an electric motor with an indoor wall switch. I also have my wood-burning fireplace in the family room, so the Roll-a-way shutter will create an insulating dead air space over the window during winter.
Rolling shutters are custom-sized for installation over any window or sliding glass door. They are operated from indoors by a pull strap, crank or electric motor. There are new electronic controls that automatically raise and lower them individually or in groups from a hand-held remote control.
Rolling shutters use a design concept similar to a rolltop desk. There are individual long horizontal slats (often one to two inches high) that slide in vertical tracks on each side of the window. When they are opened, they roll up into a small (eight inch square) aluminum storage box mounted above the window. For tall windows, the box can be totally hidden inside the roof soffit.
Each slat has interlocking flanges on the top and bottom to connect them together. These block noise, light, wind, and hazardous objects. The slats have some insulation value, but much of the increased energy efficiency also results from the dead air space the shutter creates.
Each slat flange has tiny horizontal open slots. When you begin to raise the shutter, the slats separate before the bottom actually starts to lift. This exposes the slots to allow for air ventilation and light without losing privacy. The shutter is not as resistant to impact in this position though.
The shutters are available in many colors. Wood-grained ones are particularly attractive. Since they are hidden in the storage box and totally out of sight when opened, you can install them on just a few windows without its looking odd. First-floor windows are most commonly done.
There are several basic slat materials from which to choose: PVC, rolled aluminum and extruded aluminum. PVC is often used for small windows. Rolled aluminum (foam-filled) works well for larger windows. Extruded aluminum is more for commercial or very large windows or doors.
Another option is a horizontal folding shutter that many of the same manufacturers produce. These shutters open accordion style and are strong enough to meet hurricane-area building codes. They can be used on windows, but they are often used over wider sliding glass patio doors. When opened, they fold into a surprising small width and are almost imperceptible beside the door.
Instant Download Update Bulletin No. 883 - buyer's guide of 14 rolling shutter manufacturers showing slat material option, types of insulation used, colors available, width ranges for the slats offered, opening and closing options, types of automatic motorized controls, representative prices and illustrations of many models and styles.
Dear Jim: I just installed a skylight tube in my kitchen for more natural light. Now I want to replace the flooring with light-colored laminate. Is it better to use the snap-together or glue-down type? - Janet R.
A: With natural light from the skylight tube in the ceiling, a light-colored floor will really brighten up your kitchen without electric lights on. Your choice of durable laminate flooring is good.
The snap-together type of laminate flooring is generally the easiest to install for the average do-it-yourselfer. The key to a good installation job is making sure the subflooring beneath it is stable and smooth.