Search engine visitors - click here to access entire "$ensible Home" web site
"Tight-sealing insulated garage doors are attractive, safe"
Click here to see a descriptive illustration of a decorative insulated security garage door, pinch resistant joint and safe spring adjustment.
Dear Jim: I saw some attractive garage doors at a home show. My old one does not have windows for light nor does it seal well. My kids do projects in my garage, so I heat it sometimes. What are the safest, most efficient doors? - Mike M.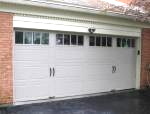 A: Most older garage doors are not effective at providing a good seal. They block rain water from getting in, but were not specifically designed to block air leakage. With many people heating garages today, blocking air leakage through and around the garage door is important.
I do a lot of woodworking projects building beehive parts in my garage, so I like it to be comfortable. I just replaced my old garage door with a super-insulated (R-17.2) Clopay (www.clopaydoor.com) door - see photo to right. The construction is a 3-layer door with 2-inch polyurethane foam insulation. I selected the Clopay Gallery Collection with the appearance of two carriage doors. It was easy install myself with the EZ- SET torsion springs. I adjusted the springs safely with an electric drill.
Even if you do not heat your garage for use as a work area or whatever, it is still important to have a door which seals well. Most attached garages have two walls common with the living area. A more efficient garage door will moderate the garage temperature swings and reduce heat loss (during winter) and heat gain (during summer) to the house through those walls.
When you compare garage door designs, pay attention to seals between the panels. The simplest types are compression seals which either compress metal spring seals or polyurethane bulb weatherstripping in the gaps.
The most effective seals use a tongue-and-groove or shiplap panel edge design often with a smaller flexible compression seal. These edge designs create a longer, non-straight air leakage path which impedes the air flow. As long as you install the panels properly, the seals should remain tight.
Since your children will be using the garage, it would be wise to select a garage door with pinch-resistant panels. The edges (joints) of the panels are designed such that there never is an open gap which can pinch fingers as the door closes. If children try to touch the gaps, the motion of the edge pushes their fingers out as it closes. These designs also seal well.
You should install an insulated garage door. They are often insulated with polyurethane or polystyrene foam insulation. A two-inch-thick door, filled with injected polyurethane foam, can have insulation as high as R-18. Painted galvanized steel skins, on both sides, are usually the most durable. Some grained steel skins can be stained to look like natural finished wood.
The windows can have a tremendous impact upon the appearance of the garage door. They are made of real glass or acrylic plastic in either single- or double-pane insulated options. Various designs and shapes, such as an arc, of windows across the width of the panel can be unique and attractive.
You do not need large door windows to light the garage. They are used just for background lighting and safety. For task lighting, use four-foot long fluorescent lights over the work area. Since there usually is no living space over a garage, consider installing a tubular skylight for bright natural lighting.
Instant Download Update Bulletin No. 881 - buyer's guide of 11 highest-quality garage doors, method of insulation, insulation thickness, R-value, colors, glass options, seals, panel contours (flush, raised, ranch), section seals with illustration (shiplap, tongue and groove, compression type, polyurethane material), features and illustrations.
Dear Jim: Our house is built into a hill, so part of it is on a slab and part over a crawl space. The crawl space is always cool. How can I draw the cool air from it into my house during summer? - Gina F.
A: This would not be a good idea because the air in a crawl space is usually highly humid. The last thing you need in your home during summer is more humidity and mold spores, particularly if you have allergies.
You are better off just making sure the floor above the crawl space is sealed and well insulated. The crawl space should be vented so it gets fresh air and stays drier. Special crawl space wall vents are available.