Search engine visitors - click here to access entire "$ensible Home" web site
"Home-use professional gas ranges are attractive and efficient"
Click here to see a descriptive illustration of several types of approved home-use professional gas ranges.
Related links - DIY Appliance Maintenance Guides
Dear Jim: My wife and I enjoy entertaining and cooking large meals, so we are considering getting a professional gas range. Will the big burners waste a lot of gas? What features are most important to consider? - Ron J.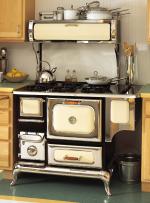 A: The newer professional-style gas ranges are great for entertaining. The largest ones (60 inches wide) include six burners, grills, griddles, woks, warming racks, built-in cooktop lighting, air filtering systems, etc. The dual-fuel models are most popular now.
Although some of the burners look gigantic, they can be set to a low heat level and smaller burners are usually included so the gas usage should not be any higher. It may actually be lower because, on the big burners, you can bring a pot of water quickly to a boil and save energy overall.
One of the most important features is to distinguish between a true professional gas range and a "professional-style" range for home use. Although they look somewhat similar, the home-use models have extra wall insulation, cooling air wash systems, etc. to keep the exterior cool for safety, especially with children around. It must be AGA certified for home use.
Dual-fuel models use a combination of gas on the cooktop and electricity in the ovens. Many professional chefs prefer electric heat for baking. Some of the models also include a convection oven option. This reduces cooking time substantially and provides more even heating for baking and roasting.
For convection cooking, a third heating area in the oven back is blocked from direct exposure to the food. A small fan circulates air throughout the oven around the food. When baking different foods, an internal air filter option can keep flavors from transferring among the various foods. Optional air filters are also available to filter the oven air that escapes into your kitchen to reduce odors.
If you are planning to do some gourmet cooking, you should consider the heat output of the burner simmer settings. At maximum heat, the burners produce 15,000 Btuh. Some of the models can be adjusted down to a heat level less than 400 Btuh. This is ideal for making sauces and other low-heat dishes.
For most families, safety features are also very important. Some models have automatic flame relighting in case the flame blows out. Many of the models with convenient digital readout controls also have lockouts so your younger children cannot turn a burner on without your being present.
Depending on your kitchen decor, several companies make retro-style, professional gas ranges with all the features. They are very attractive with bright enamel finishes and nickel- or gold-plated trim, but are a bit pricey. Matching efficient retro refrigerator/freezers are also available.
Instant Download Update Bulletin No. 876 - buyer's guide of 11 professional/antique gas range manufacturers listing burner types, broiler types, sizes, maximum burner heat outputs, broiler outputs, range configurations available (number of burners, grill, griddle options), convenience and safety features, illustrations, and prices on several models.
Dear Jim: I have an old electric dryer, but I think it is still efficient. I have seen black, greasy-type marks on some of my clothes when I take them out. What could be causing the marks? - Bonnie N.
A: First of all, your old dryer is probably not as efficient as you think because it has simple old controls. This results in overdrying most of your clothes which wastes energy.
The black marks may be coming from an old sealed bearing that has lost its seal. About all you can do is call a serviceman to check it. If the bearings are failing, he will probably recommend getting a new dryer.