Search engine visitors - click here to access entire "$ensible Home" web site
"Grow fragrant shrubs for a pleasant scent"
Unlike my regular format, there is no column associated with this bulletin because it did not appear in the newspapers. The following in the introduction to the actual Update Bulletin No. 859.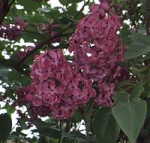 Most of the shrubs listed have fragrant blooms but some of the shrubs have leaves that have a pleasant aroma when they are bruised or brushed against. These shrubs will benefit by being placed by a walkway or path. You can choose deciduous flowering shrubs which lose their leaves in the autumn. Many of these plants will put on a spectacular fall color display. Broad-leaved evergreen shrubs will hold their foliage even in the winter.
Not only are these flowering shrubs valued for their fragrance but they are also valuable assets to the landscape. They can be used as hedges, foundation plantings or as a screen for unattractive areas in your yard. Choose a shrub that has a number of stems that branch out from the central stem close to the ground. The plants should be dense and bushy with a lot of stems off the main branches. The leaves should be free of marks and blemishes. Look for shrubs with lots of buds on the stems.
If you choose a shrub that is balled-and-burlapped, be sure that the burlap is very tight. The roots can tear away from the soil if it is too loose. Plan to plant balled-and-burlapped shrubs immediately after purchase. The burlap needs to be loosened and will not interfere with root development. It will decay rapidly. The soil in container-grown shrubs should be firmly packed. It is desirable to have a plant that has been grown in the container for at least a year. If the roots show on the surface of the soil, it was probably just dug up and put in the container. It is better not to purchase this plant.
Bare root shrubs are best planted in winter or early spring. You need to keep the roots moist. Cover the roots and parts of the stems with damp soil or wet sawdust until you are ready to plant the shrub. Flowering shrubs are best planted in the early spring. This gives the root system time to take hold before hot summer weather sets in. Dig a hole at least a foot wider and deeper than the root ball of the plant.
Mix the soil from the hole with soil additives like peat moss, organic material or compost and fertilizer. Place a layer of this soil in the hole and set the plant in at the same depth that it grew. Spread the roots out and cover them with the rest of the soil. To help catch water, form a shallow depression around the center of the shrub. Make a raised rim of soil around it.
Water the shrub thoroughly after planting. Spread a decorative 3- to 4-inch layer of mulch around the shrub for an attractive finish. This also protects the roots and helps to retain moisture. Give it a good soaking in a few days. Make sure not to plant your shrubs too close together. Space the shrubs according to their mature height and spread.
Privacy hedges can be planted twice as close as those used in borders. Space hedge plants at a distance equal to one-fourth their mature height. Before making a selection for your garden, it is a good idea to make a personal smell test. What is delightful to some may be overpowering to others. And be sure to if the plant you choose is hardy in your area or for your particular situation.
Instant Download Update Bulletin No. 859 - selection guide of 35 fragrant flowering deciduous and evergreen shrubs with brief descriptions, color, exposure, bloom times, height, width, climate zones, guide and illustrations on pruning shrubs, basic shrub shape descriptions and illustrations.