Search engine visitors - click here to access entire "$ensible Home" web site
"Attractive vinyl and fiberglass fencing, gate openers for homes"
Click here to see a descriptive illustration of several styles of vinyl fencing.
Dear Jim: I want to install a fence as a windbreak and for more security. Wood looks great, but it requires a lot of maintenance. Are white and wood-grained vinyl or black fiberglass "iron" fences a good choice? - Sam M.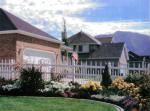 A: A privacy fence creates the most effective windbreak and security, but even a simple picket fence will help. Blocking the direct force of the wind from your house can lower your utility bills. For highest security, surround your entire house and use a remote control gate opener.
You don't need an extremely high fence to create an effective windbreak. If you select a standard five-foot privacy fence, add a decorative accent panel (lattice, octagon pickets, starbursts) on top for a little extra height.
Although the decorative vinyl fencing material is slightly more expensive initially than wood, its overall lifetime cost is lower because it requires less maintenance. Actually, there is no maintenance required for vinyl. If you live in an area with frequent rains, you won't even have to wash it.
Often, until you actually walk up close enough to touch it, good-quality vinyl fencing is difficult to distinguish from painted white wood fencing. The size uniformity of the pieces is usually the first indication of vinyl.
If you prefer more of a natural wood look, some new vinyl fencing material simulates stained cedar privacy planks. It never has to be restained. Gray-colored vinyl, with natural graining simulates weathered cedar fencing. Both colors use 1x8 in. tongue-and-groove profile inserts between posts.
Polyvinylchloride (PVC) is used in vinyl fencing. It is somewhat similar to drain pipe and vinyl window materials. White is, by far, the most common color although several other standard colors are also available. Since the entire thickness of the vinyl is colored, scratches are not noticeable.
To minimize degradation of the vinyl by the sun's rays, high-quality vinyl fencing is made by a co-extrusion process. A thin surface layer, with ultraviolet light inhibitors is extruded as a cap layer over tough vinyl with impact modifiers. This creates long-lasting fencing components.
No-maintenance fiberglass is now used to simulate elegant black wrought iron fencing. This is pultruded fiberglass similar to window frames, not as Corvette bodies or boat hulls are made. It is attractive with flat or spear cap trim and costs only a fraction as much as real wrought iron fencing.
You can save a lot by installing the vinyl fencing yourself. Some companies offer do-it-yourself kits that don't even require you to dig a posthole. T-posts are driven into the ground and the vinyl fence posts mount over them.
Instant Download Update Bulletin No. 809 - buyer's guide of 12 vinyl fence manufacturers showing styles (full privacy, semi privacy, privacy with lattice, picket, concave picket, closed rail picket, post and rail, crossbuck, basket weave), illustrations of some styles, colors, warranties, features, suggested installation and building fence guide; gate opener manufacturers showing types (swing, slide), travel speed, cycles per hours, maximum gate weight/length, features.
Dear Jim: I run a dehumidifier sometimes during the summer instead of the central air conditioner to save energy. I assume the water in the pan is distilled water. Can I drink this water, use it for plants, etc.? - Tracy H.
A: You are correct, the water in the dehumidifier pan is basically distilled water. This would be fine to use for watering plants, washing windows (no hard water deposits) or similar tasks.
It would not be wise to drink the water or give it to your pets to drink. Since there are no chemicals, such as chlorine, to purify the collected water, it may contain an unacceptable high microbe level.