Search engine visitors - click here to access entire "$ensible Home" web site
"Tune up your window and central air conditioner yourself"
Click here to see a descriptive illustration of how to tune up your air conditioner.
Dear Jim: My house has central air-conditioning, but I also use a window unit in my bedroom. They don't cool as well as before and my electric bills were high last summer. How can I maintain and tune them up myself? - Al N.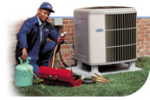 A: Although a central air conditioner should be professionally serviced every three years or so, there are some annual maintenance items you can do yourself. A springtime check-up should cut an air conditioner's operating cost by 10 percent or more and provide more cooling capacity.
You will find even a greater improvement in performance and efficiency by servicing your window unit. These systems are very sensitive to dirty air filters and debris that gets inside of the housing and into the air path.
The key to keeping your central air conditioner operating efficiently and producing its maximum cooling output is to make sure the air flow through the outdoor coils is not impeded. If the coils cannot easily transfer heat to the outdoor air, the unit must run longer and uses more electricity.
First, check the clearance around the outdoor unit. Shrubs can grow quickly and the foliage can get too close to housing. A three-foot clearance is usually adequate. Some outdoor units are side-discharge and others are top-discharge, so check the clearance in the proper direction.
Switch off the electric power at the indoor breaker box or at the unit itself. Remove the sheet metal screws and lift off the housing. You will find leaves, sticks, toys, etc. in the unit. Clean out the debris. Spray off the coils with a garden hose trying to avoid the electronics.
If you find coil fins bent over, straighten them as well as you can with the tip of a sharp knife. Replace the housing and carefully tighten all the screws and make sure all the sheet metal parts fit tightly. It is important the fan draws air through the coils and not through gaps and cracks.
Planting some shrubs reasonably close to the unit is a good idea because it provides shade and cools the air around it. This improves efficiency. If you need extra storage outdoors, and you want to hide the ugly outdoor unit, build a shade/storage bin over it. Leave the three-foot clearance.
Go indoors to your air conditioner blower. Clean or change the filter because maximum air flow is important there too. While the filter is out, run your vacuum cleaner brush attachment over the cooling coils if you can reach them.
Pop off the front of your window air conditioner to remove and clean the cooling air filter. Remove a few sheet metal screws and you should be able to remove the housing. Clean out any debris, wipe off the blower and condenser fan blades.
Instant Download Update Bulletin No. 803 - Do-it-yourself maintenance for central and window air conditioner tune-ups; do-it-yourself instructions for making a shade/storage bin for an air conditioner with illustrations and dimensions, required materials list and a troubleshooting guide for air conditioners (a/c problems shown with possible solutions).
Dear Jim: I have been trying to use passive solar heating in my home. The south rooms stay comfortable, but the northern rooms are colder. How can I get the heated air from the south side to the north side? - Hank S.
A: Distribution of the solar heated air can present a challenge with a passive solar heated house. Making sure to keep all interior room doors fully opened can help quite a bit for natural circulation.
Also consider running your furnace blower continuously during the peak solar heating times (noon to about 3:00). If you are installing a new furnace anytime soon, select one with an efficient variable-speed blower motor.