Search engine visitors - click here to access entire "$ensible Home" web site
"Add months of swimming with a do-it-yourself solar pool heater kit"
Click here to see a descriptive illustration of several types of solar swimming pool/spa heater kits.
Dear Jim: I would like to use a solar system to heat my swimming pool water so my family can use it several more months each year. What are the various solar systems available and are there any do-it-yourself kits? - Beth L.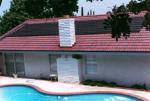 A: In most climates, you can get an extra two to three months use of the pool by installing a solar system to heat the water. During midsummer, when the pool water often gets uncomfortably warm, you can circulate the water through the solar collectors at night to cool the pool.
There are several basic designs of solar swimming pool and spa heating systems and many are sold as do-it-yourself kits. The manufacturers will advise you as to the amount of solar collector area needed based on your pool or spa size and your climate (temperature and amount of cloud cover).
One interesting design uses a heat exchanger located in your attic. The heat exchanger is somewhat similar to a car radiator with a fan. The heat from the hot attic air is absorbed by the pool water. This not only heats the pool, but it cools your attic for lower air-conditioning costs.
Another unique design uses a four- to eight-foot diameter solar collector. It looks similar to a large TV satellite dish. Its parabolic shape focuses the sun's heat on a small center core through which the pool water flows. It is ideal for colder climates and can also be used as a household water heater.
Special hollow solar decking is available. This is particularly good for above-ground pools, but is also effective for in-ground ones. The pool water flows through the dark plastic decking and absorbs the heat. This also keeps the decking cooler so it is comfortable to walk and lie down on. Complete above-ground pool kits with built-in solar decking are available.
The most common type of solar system uses flat solar collectors which lay flat against the roof of your house or garage. These systems can also be mounted on racks or just laid on the ground near the pool. They attach to the existing pool filter system pump so most are easy to install yourself.
Some rigid plastic collectors are available, but today most of the solar collectors are made from flexible tubing or sheets. This allows it to fit irregular surfaces such as the ground, a trellis or roof. Although it looks like simple tubing, it is specially designed for efficiency. Some include hook-and-loop straps so they can be rolled up and stored over winter.
Do-it-yourself installation kits usually include the collectors, check valves, solar valves, and return line tee so they are easy to attach to the pool filter system. Automatic controllers are available to allow you to set any water temperature. When the sun is hot enough, the system automatically starts.
Instant Download Update Bulletin No. 797 - buyer's guide of 11 solar pool heating kits (and complete solar pool kit) showing collector materials for each model and mounting application, suggested mounting locations, dimensions of the various collectors available, unique features (warranties, controls, etc.) for each manufacturer, and charts, a map and worksheet to determine the correct system size required for your area of the country.
Dear Jim: I live in a condo. It is required that all the window frames are dark red. I would rather install less expensive vinyl replacement windows. Can the vinyl be painted to look like the other wood windows? - Kat G.
A: The vinyl frames can be painted, but it is not a typical do-it-yourself project and the paint will not hold up as it does on wood frames. The surface properties of vinyl are not conducive to accepting paint.
If you do try to paint it anyway, you should have the surface etched with a weak acid solution. This will break the surface gloss and pit the surface so the paint adheres better.