Search engine visitors - click here to access entire "$ensible Home" web site
"Circular/octagonal panelized houses are attractive, efficient, easy to build"
Click here to see a descriptive illustration of a unique panelized circular house and construction cutaway.
Dear Jim: I saw some round and octagonal houses at a recent home show. They were very attractive outside and had uniquely shaped room layouts with sloped ceilings. Is this an energy efficient method to design a house? - Jack S.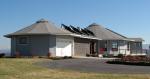 A: It sounds as though you are referring to circular panelized houses. The exterior of these houses is actually made of many flat panels connected together. These houses are attractive with large windows, high sloped ceilings, angled rooms, and decks surrounding the entire exterior.
Circular panelized houses are energy efficient because of their shape. A round exterior minimizes surface area to lose or gain heat. Winds naturally flow smoothly around the house with less air leakage. Each room has two or more exterior panel walls with windows for natural cross-ventilation. (See photo of green Deltec house using solar energy to right.)
Several designs allow for the roof to be supported by only the exterior walls. Other designs use a strong steel center post to support the roof. Both designs allow for complete interior layout flexibility and an open floor plan. This is ideal for passive solar heating and natural cooling.
The high sloped ceilings are one of the most attractive and efficient attributes of these houses. This gives a large open feeling to even a budget-size home. The center peak can be designed with vents to naturally exhaust hot air during summer. It can also be enlarged into a mini-room or loft totally surrounded by windows for a magnificent private view outdoors.
House designs range from ones with more than 20 four-foot-wide wall panels to ones with only eight wider panels for an octagonal shape. The ones that use the four-foot panels appear to be nearly a smooth circle. In between these two extremes are ones that use eight-foot panels. The number of stories and panels used determines the size and square footage of the floor plan.
These houses are delivered to your building site ready for assembly. The wall, floor and roof panels are basically complete, depending on the specific house manufacturer. The sizes of standard floor plans range from about 700 sq. ft. bungalows to three-story 4,000 sq. ft. elegant mansions.
You may choose a large multistory circular design or two or more smaller ones clustered together for a unique, more open floor plan. Standard rectangular additions and connector sections can easily be incorporated into any of the designs to customize the house for your family's needs.
High-efficiency windows (you determine how many and sizes) are already installed in the wall panels when you receive them. The doors are installed at the site as is the insulation which it easier to purchase locally. There are floor kits for building on a slab, crawl space, basement, or pedestal.
Instant Download Update Bulletin No. 781 - listing 10 circular/octagonal panelized house kit and structural insulated panel manufacturers, eight floor plan layouts (several with exterior diagrams) ranging from 600 to 2,000 sq. ft., each kit manufacturer's range of standard kit floor plan sizes (sq. ft.), and construction specifications for several manufacturers.
Dear Jim: I am trying to determine if the toilet tank is porous and leaking or if it is just sweating. We use well water which is pretty cold. Is there a way to determine the source of the dripping water? - John R.
A: Toilet tanks generally do not sweat much during the winter because the indoor air is typically less humid than during the summer. If you have a humidifier running though, it may be humid enough to sweat.
If the tank is sweating, the moisture will be all around the tank. Also, it will be damp (exterior) up to the water level in the tank. Put dye in the tank and see if the moisture that forms has any color.