Search engine visitors - click here to access entire "$ensible Home" web site
"Adjustable awnings are attractive, block heat, save furniture"
Click here to see a descriptive illustration several designs of retractable and fixed anwings
Dear Jim: The sun's heat and glare are pretty intense through our windows and my furniture is fading. I have seen some attractive adjustable awnings. Are decorative window awnings really very effective? - Kay M.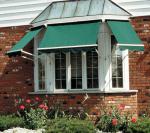 A: New awning designs are very effective for shading windows (blocks 60% of heat). Awnings with decorator fabrics are becoming quite popular for use on homes, both for shading windows and for protection over doors.
Installing awning kits will not only lower your air-conditioning costs and improve your comfort, but it can increase the life of your furniture, carpeting, drapes, etc. The same ultraviolet (UV) rays that cause fading actually degrade and weaken the fibers in your indoor furnishings.
The new lightweight awnings, with strong aluminum frames (hidden under the fabric), require little maintenance. An occasional brushing of the awning fabric and rinsing with water and Ivory Flakes keeps it looking like new. Many awnings have a five-year warranty on the hardware and the fabric.
The basic design choices are adjustable and fixed. Adjustable awnings give you precise control over the level of shading year-round. In the winter, you may want to let more sun in for free heat. Keep in mind though, much furniture fading occurs in the winter too.
From indoors, using a pull tape or a switch, you adjust the awning position to cover as much glass as you wish. One small half-inch hole is all that is required for the tape. For the ultimate convenience, install a remote controlled electric motor. The motor is hidden in the awning fabric tube.
As you open an adjustable awning, two spring-loaded arms keep the fabric taut for an attractive appearance. For privacy, security or during storms, some models (like the Solaro and Perma System) adjust nearly all the way down (160 degrees) so the awning lays almost flat against the window.
Fixed designs, because of their simplicity, are less expensive. When choosing one, it is important to have it sized properly. The correct size depends on the window size, your area's latitude and window orientation. They are also the easiest to install.
One new design, Poncashade, is delivered to your house with a preassembled hinged frame in a flat box. The acrylic fabric is already attached. Just drill four holes to attach it. It took me about 10 minutes to install one over my own back door.
If you are primarily interested in the appearance of awnings, English-style canopy designs are a good choice. These are available in three, four or five-rib, ellipse or circular designs. Retractable canopy designs are available, but they do not adjust. They are either fully up or extended.
Instant Download Update Bulletin No. 736 - buyer's guide of adjustable and fixed window and door awning kits (canopies, small and large adjustable awnings, adjustable vertical awnings), widths, projections, fabrics, features, suggestions on measuring for an awning, recommended cleaning of acrylic awnings, benefits of a fabric awning, explanation of how awnings save energy, prices and illustrations.
Dear Jim: I am getting quotes on an energy efficient room addition that will be heated with solar and a pellet stove. The contractor suggested a punch list for the final 10% of the costs. What does this mean? - Ron D.
A: What your contractor is probably referring to is a list of detailed items that need to be finished or corrected at the end of construction work. This protects both you and the contractor.
What typically happens is that you and the contractor will go through the room addition together and you will note anything that needs to be fixed. As these items are corrected, they are "punched" off of the list.