Search engine visitors - click here to access entire "$ensible Home" web site
"New decorative, no-maintenance siding adds insulation value"
Click here to see a descriptive illustration of many designs and styles of new siding materials.
Dear Jim: I'm tired of maintaining my wood siding and want to replace it with maintenance-free siding. I don't like the appearance of vinyl. What other options are there? Can I add more insulation under it? - Mike O.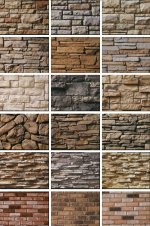 A: You have many new attractive no-maintenance options other than vinyl siding and an extra layer of insulation can be installed under any of them. Actually, some new vinyl siding with R-4 insulation backing, which makes it rigid and true, looks much crisper and nicer than you probably realize.
If you want to totally change the appearance of your house, consider installing maintenance-free simulated brick siding. It is easy to install and some types are virtually impossible to distinguish from real bricks. Use it on all the walls or just as accents. One common style for two-story houses is brick siding on the first floor and insulated vinyl siding above it.
Since you want to increase the wall insulation, installing one of the real brick siding kits that mount over special rigid foam insulation panels would be ideal. These bricks are the same size and surface texture of solid bricks, but they are only one-half inch thick creating lightweight walls (only six pounds per sq. ft.).
These kits include predesigned panels with support channels to perfectly align the thin bricks. A one-inch-thick layer of rigid polystyrene foam insulation is already attached to the back of the panel. The back of the panel has aluminum ties to secure it to the existing wall.
With another brick technique, each thin brick is attached individually to the wall sheathing or insulation with special mastic. The mastic is spread on the wall and the backs of the bricks. The bricks are pressed against the wall to fix them permanently in place and mortar is troweled in between them.
Installing synthetic stone is another attractive siding option. These naturally colored stones are made of cement and a lightweight aggregate. The molds are patterned from real stones, but they are thin with flat backs.
These stones are available in many styles: fieldstone, ledgestone, river rock, etc. The thin flat-backed stones are fixed to the wall in a similar manner to the thin bricks and finished with mortar in the joints. The airtight surface and the mass of the mortar with stones or bricks also helps block outdoor road noise.
Lightweight, no-maintenance polypropylene plastic panels are an easy-to-install unique siding option. These panels can be installed over additional rigid foam insulation boards. Each, roughly three-foot-long, panel interlocks perfectly with the mating panels so it appears to be one continuous surface. They are available in simulated brick, stone and cedar shake profiles.
Instant Download Update Bulletin No. 735 - buyer's guide of 15 new decorative and standard types of no/low-maintenance exterior siding materials and insulation kits (cultured stone, insulated vinyl, thin brick, plastic simulated cedar/stone/brick, fiber-cement, engineered wood), surface textures, profiles, warranties, features, installation details, illustrations and descriptions of various types of siding.
Dear Jim: I have a single-story house which has a fairly steep roof. I think there should be enough height in the attic to make a second-floor bedroom. Will the walls be able to support the extra weight? - Judi B.
A: If your house was built to most building codes with 2x4 studded walls on 16-inch centers, the walls should handle the weight. The main concern will be the attic floor joists. Make sure they will meet your codes.
Insulate the walls and ceiling around the new room and provide for some air circulation over the insulation. With the rooms proximity to the roof, stapling foil under the roof will keep the room cooler during the summer.