Search engine visitors - click here to access entire "$ensible Home" web site
"New patio and screened room kits can be used year-round"
Click here to see a descriptive illustration of several interior and exterior views of patio rooms, folding glass wall.
Dear Jim: I would like to add a screened porch or a simple patio room kit over my patio so I can spend more time outdoors. I don't want to pay a lot heating it during cooler weather. What do you recommend? - Parker N.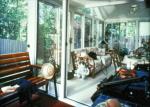 A: Adding a screened porch or patio room kit to your home is a very popular home improvement project these days. It is inexpensive living space and can increase the resale value of your home by more than the kit's cost. When you spend more time outdoors, you often need to air-condition less for more savings.
There are three general kit options from which to choose: screened only, three-season and four-season. The first two options are not meant to be heated or used during cold weather. The terms "three and four-seasons" are used by the trade. In a mild southern climate, a three-season patio room can be used year-round without heat.
It sounds as if you are looking for one of the first two options. I built a three-season patio room at my house. Once you have one, you will be surprised how often you use it. Mine blocks the direct sun from two windows and the concrete patio which also keeps my house cooler during the summer.
Depending on your climate and your budget, a simple room with a durable vinyl roof and screened sides is effective. You can locate it over a patio or a deck. Some models are more than 200 sq. ft. and are easily assembled in an hour. During the winter, collapse it and store it in the garage.
If you prefer a permanent room, a three-season patio room is your best choice. Most have a three-inch-thick insulated panel roof made of aluminum skins and a foam core. They are lightweight, but efficient. I installed a venting skylight in one of my roof panels to keep it cooler during the summer.
All of the windows in most kits are sliders. When they are all opened, one half of the walls are open screening. This provides more than adequate breezes and the sensation of being in a completely screened room. With the windows closed, you can be comfortable in one on a cool, but sunny day.
Another option is to install a screened panel kit for walls in a room. This will require you to erect an open frame structure for the room. These screened panels are made of cedar and are very attractive. Optional clear acrylic panels can be snapped over the screens to keep warmer.
If you want to convert an existing room into a screened patio room, consider installing a folding window wall. These screened windows, either four or seven feet tall, open like an accordion to give more than 90 percent screened area. They operate smoothly and have secure locks when closed.
Instant Download Update Bulletin No. 724 - buyer's guide of the 12 best patio room/screen porch kit (portable, three-season and four-season) manufacturers listing the roof/wall design details, window/door designs and options, glass options, special features, material construction details and illustrations of wall and window panels.
Dear Jim: I live in a relatively mild climate and I need to replace my gas furnace. I am trying to decide whether to spend the extra money for the highest efficiency model. What do you think is best for me? - Bob H.
A: If you are strictly considering the monetary payback, a medium-efficiency model is probably your best choice. Have your contractor do computerized payback analyses on several models to compare the savings.
Another consideration is the environment. The highest-efficiency model will use less gas and create less global-warming greenhouse gases. You will have to make a personal determination as to what is most important.