Search engine visitors - click here to access entire "$ensible Home" web site
"Simple do-it-yourself project blocks sun and cold winds from patio doors"
Click here to see a descriptive illustration of sun/wind shield and patio door shutters.
Dear Jim: I cannot afford a new patio door, but I need to find a low-cost method to block the sun in the summer and cold drafts in the winter. What is the best do-it-yourself way to do this? - F. A.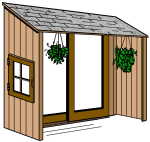 A: An old leaky patio door is about the greatest single year-round energy waster in most homes. It also makes you uncomfortable and allows dust, allergens, humidity, fading rays and noise into your house.
Building a simple low-cost sun/wind shield is one of the simplest and best methods to reduce energy losses and discomfort near an old patio door. In the summer, the sun's intense fading rays will be totally blocked. By deflecting the cold wind in the winter, sweating on the glass is also reduced.
A sun/wind shield can be attractive. It also provides an excellent location for hanging plants, a covered area for the kids' muddy shoes, privacy from neighbors and allows you to open the door when it rains.
Depending on how you plan your sun/wind shield, you can make its top large enough to place chairs under. The larger the top, the more months of shading and fading protection it provides in fall and spring too. Before starting this project, it is important to make any needed repairs (caulking, weatherstripping and latch adjustments) to your patio door.
This project consists basically of 2x4 framed sides and top that are covered with plywood siding. If your budget is not too limited, use pressure treated lumber for all the pieces that touch the patio.Plan the slope of the top so that it is consistent with the slope of the house roof. This gives it a more professional look. Decorative plywood siding prices vary, so you must compromise between appearance and cost.
For natural ventilation in the evenings, install a simple hinged plywood shutter or window into the southwest or west side of the sun/wind shield. This helps catch cool prevailing evening breezes. Building a flowerbox/sun shield for smaller windows also provides ventilation and shade.
Another do-it-yourself option is an insulated interior patio door shutter. It has three hinged panels on each side and opens accordion style. It can be finished with paneling or covered with decorative fabrics.
Make a frame around the door with 2x4's. Next make six frames using 1x2's and cover one side with the paneling and plywood. Cut and lay a piece of one-inch thick rigid foam insulation in each frame and cover the other side. Hinge each set of three panels together and attach them to the frame.
Instant Download Update Bulletin No. 707 - do-it-yourself instructions, diagrams and required material lists for making several projects - a patio door sun/wind shield; insulated interior shutters for patio doors; a flowerbox window sun shield and a sun shade window enclosure.
Dear Jim: During the summer, our refrigerator seems to run almost constantly. It is noisy and I am afraid that it will wear out prematurely. Is this normal and what should I do about it? - H. G.
A: Your refrigerator compressor should not run almost continuously. This not only wears it out and wastes electricity, but it creates excess heat indoors which makes your air conditioner run longer too.
Refrigerators are often placed tight against a wall, under cabinets or in a corner. Pull it out a couple of inches, especially in the summer, to allow more air flow through the coils. Also, vacuum the condenser coils regularly.