Search engine visitors - click here to access entire "$ensible Home" web site
"Vented insulated roofing panels make cathedral ceiling simple to build"
Click here to see a descriptive illustration showing how a vented roof panel creates a cathedral ceiling.
Related links - House Insulation Tips and Quantity Guide
Dear Jim: I want to build a family room addition with a cathedral ceiling and skylights. What is the best and easiest-to-build method for this type of ceiling? I would like to convert my bedroom ceiling too. - Rob Y.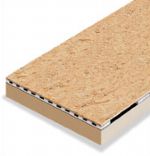 A: You are in luck. Vented nail-based roofing panels are both the easiest-to-install and the most efficient cathedral ceiling option. Installing skylights in these roof panels is a breeze. A cathedral ceiling and skylights make even small rooms seem open and spacious.
Vented roofing panels are ideal for converting your flat bedroom ceiling to an attractive cathedral ceiling. Another excellent panel application is to provide insulation when converting an attic to living space.
Most vented insulated roofing panels are made of thick isocyanurate foam insulation (up to R-40). Air gap spacers are bonded to the top foam surface and oriented strand board (OSB) is attached to the spacers. The OSB provides an excellent nailing surface for shingles or any type of roofing.
Another unique vented design, AirFlo, uses lower-cost expanded polystyrene (EPS) foam insulation without spacers. Grooves are cut into the foam before the top OSB sheet is attached. These groove allow for the air flow. You can also use a standard foam panel and attach your own venting layer.
It is critical to provide ventilation under the roof. Many shingle manufacturers will not warrant their shingles without adequate ventilation because of excessive heat buildup. Using vented panels with a continuous ridge vent can really reduce your summer air-conditioning bills.
Several of these vented panels are designed with shiplap joints or splines to create an airtight roofing system. Even with a skylight, the overall efficiency can be greater than a conventional insulated flat ceiling/attic design. Most vented panels need to be installed over roof sheathing for support. If you plan to have exposed wood ceiling beams, use stress skin vented panels.
These strong stress skin panels have drywall or wood paneling already attached to the bottom for quick and simple do-it-yourself installation. To cover extra large ceiling beam spacing, up to 6 feet, choose structural stress skin panels. These have an extra thick OSB skins.
Another construction method is to use insulation on top of the cathedral ceiling. Install special foil-backed insulation shields one inch under the roof decking. These hold blow-in insulation in place and create an air gap for ventilation. The reflective surface blocks the summer sun's heat.
Instant Download Update Bulletin No.668 - list of 19 insulated vented and stress skin roof insulation panel manufacturers, size of panels, insulation values per thickness in inches, types of insulation (expanded polystyrene, polyisocyanurate, isocyanurate, urethane), descriptions, design and recommended installation details.
Dear Jim: I recently bought a new flapper valve for the toilet tank because the old one did not seal. Now I have to hold the flush lever for a while to make it flush properly. What did I do wrong? - Steve H.
A: You may have done nothing wrong. You probably purchased a water-saving flapper valve (fits in the bottom of the tank). These require more careful adjustment and may always require a slightly longer hold.
First, make sure that the chain or strap connecting the flush lever to the flapper does not have excessive slack and adjust it if necessary. Check to see if the flapper has adjustable hole sizes and try different settings.