Search engine visitors - click here to access entire "$ensible Home" web site
"Pocket door kits save floor space, are easy to install"
Click here to see a descriptive illustration showing several examples of pocket doors.
Dear Jim: At a recent home show, several of the houses had pockets doors. I am going to add two rooms to my house and I am considering pocket doors. What is the advantage of using pocket doors instead of hinged doors? - Joyce N.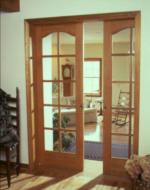 A: The primary advantage of using a pocket door instead of a standard hinged door is saving space. This can free up an additional 10 square feet of floor space. That's enough floor space for a microwave oven stand, a large bookcase, many decorative accessories, plants, etc.
The reason you see them in new homes is because building costs are $50 to $100 per square foot. Using pocket doors can allow you to build a smaller house and still maintain the same usable floor space. This really adds up for an entire house.
Another reason for installing pocket doors is a trend toward building smaller houses and room additions for energy efficiency reasons. The amount of heat loss (winter) and heat gain (summer) is partially a function of the exterior wall area of a house. A smaller exterior results in lower utility bills.
Pocket doors, especially double French ones with ornate glass, in the middle of the wall between two rooms can be very attractive. Since the doors don't swing, accents around the opening can highlight and enhance it.
If you ever used pocket doors in an older house, you will be surprised at how smooth new ones operate. They use specially designed spoked nylon (permanently lubricated) rollers that cannot jump off the track. They are easily adjustable with just a screwdriver if your room addition settles later.
It is no more difficult to install pocket doors than a hinged door in new construction like your room additions. In an existing house, you will have to remove some drywall to gain access to the wall cavity. If you remove it carefully, it will be easy to reinstall and finish a new piece of drywall.
Definitely use a pocket door kit that includes all the materials needed instead of trying to buy separate components yourself. The kits include split studs, header unit, rollers, guides, bumpers, and even a wrench.
There are differences in the kits and the ease of installation. Look for one with a preassembled telescoping header rail so you do not have to cut it to size. You may also be able to find some kits with the header board marked for various size doors. This makes locating the cut more exact.
You can generally use almost any standard interior door for your pocket door. Most kits are designed to handle a door up to 125 pounds. If you have an unusually heavy wood door, check for a heavy-duty kits that will support up to 250 pounds. A wood door with a lot of glass can get quite heavy.
Instant Download Update Bulletin No. 552 - buyer's guide of pocket door kits, maximum door weights, madimum door heights, door thicknesses, door widths, features; and a buyer's guide of selected, high-quality decorative wood interior doors, construction type (engineered wood, hardwood veneers, solid hardwood), wood species, door thickness, door width and height and features, illustrations throughout.
Dear Jim: I am having a new house built and we are in the planning stages. Is it very important to have the air conditioner outdoor unit located out of the direct hot sun for better performance? - Tony A.
A: It always helps to keep the outdoor air-conditioning unit as cool as possible. This enhances the heat transfer from inside your house to provide maximum cooling capacity and the lowest operating costs.
Shading the outdoor unit will help some, but shading the house wall, especially with a brick or block wall, near the outdoor condenser unit is more important. A hot wall will heat the air all around the outdoor unit and lower efficiency.