Search engine visitors - click here to access entire "$ensible Home" web site
"Cordless tools are super-powerful and versatile"
Click here to see a descriptive illustration showing several types of powerful cordless tools.
Dear Jim: I bought Mom's gift and now I need one for Father's Day. I was considering an impressive super-powerful cordless tool for his outdoor projects. Which are best and are they expensive to use? - J. K.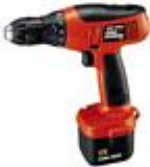 A: There are significant differences among the various power ranges and tool designs. When it comes to variable-speed drill/drivers, you are better off getting the most powerful model your budget will allow.
Select one with a high-tech rapid 15-minute charger, about the time for a break and a cool drink on a hot day. These new designs have computer-type "fuzzy logic" for rapid charging without overheating and battery damage. Cordless tools, even the most powerful models, cost very little to operate. It uses less than one cent of electricity to recharge a powerful 14.4-volt drill/driver for a 50-minute run time.
Although they look similar, there are basically two quality classes of cordless tools - professional and nonprofessional. To impress your dad, select nothing less than a 12 to 24-volt professional tool.
For example, a professional model will have a 16-position clutch instead of a 6-position clutch. Professional models often cost about 50% more. Also select a kit with an extra battery pack.
The most powerful professional model is a 24-volt hammer drill by Bosch. It can be set to produce up to 2,400 impacts per minute for masonry drilling. For regular wood or metal drilling, switch off the hammer action.
A cordless circular saw is a convenient tool for many do-it-yourself projects. By the nature of the design, it is well balanced and smooth to operate. A powerful 18-volt model can saw 125 2x4's on one charge.
If your budget is limited, consider a new 4.2-volt "Power Pen" rotary tool by Ryobi. With all the interchangeable mini-grinder, buffer and saw attachments, it is handy for many household jobs and hobbies. I used one many times for detail work when I built my helicopter.
Before buying cordless tools, check out the number of different tools offered at that same voltage. Your dad will probably want to get other tools and if he stays with the same line, the batteries are interchangeable.
For the casual do-it-yourselfer, look for an inexpensive line of 7.2-volt tools (Versapak and Flexicharge). Some companies offer as many as 20 different tools. Each tool is sold separately. You only have to buy one battery pack and charger for the set.
Instant Download Update Bulletin No. 502 - a buyer's guide of the most-powerful cordless tools, cost-to-use chart and do-it-yourself deck planter/bench and solar plans.
Dear Jim: We are building a new house. Part of it is over a full basement and part is over a crawl space. Is it better to put the insulation on the inside or the outside of the foundation walls? - T. C.
A: In almost every situation, it is best to have the insulation on the outside. It is fairly easy to install extruded polystyrene insulation in new construction. Continue it down at least several feet below ground level.
Insulation is best on the outside because the entire concrete wall stays warm and it acts as thermal mass. Also, there are usually less breaks and protrusions on the outside, so the insulation layer is more continuous.