Search engine visitors - click here to access entire "$ensible Home" web site
"New fiber optics and low-voltage kits make outdoor lighting safe, easy"
Click here to see a descriptive illustration of several unique designs of low-voltage and fiber optic lights.
Dear Jim: I have some gorgeous landscaping in my yard which I want to accent with lights. I also want more security at night. My budget is limited, so I want to install the lighting myself. What do you suggest? - Pam C.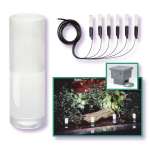 A: Adding just a few lights can enhance any landscaping layout and emphasize specific areas and plants. Also, it doesn't take bright floodlights to deter thieves. For security, some relatively dim, but strategically placed lights or motion-sensing ones can be effective.
You have three basic options for adding landscaping, accent and security lighting: fiber optic, low-voltage or standard 110-volt lights. Since you are not an electrician, don't attempt to install 110-volt wiring outdoors. It can be dangerous if done improperly. Also, if you do not install it according to code, you may be liable if the next owner gets hurt by it.
Fiber optic lighting is easy to install and efficient. Instead of running wires to various lights, thin durable fiber optic cables connect a projector box to each of them. There is only one bulb in the projector box and the fiber optic cables carry the light to the various fixtures in your yard.
Since no electricity is connected directly to each fixture, it is safe to use. Also there are no bulbs to burn out in each fixture. When the projector bulb burns out, you have to replace only one bulb. The projector box is located against your house and plugs into any outdoor electrical outlet.
Complete fiber optic landscape/accent lighting kits are available. They include the projector box, cables and various light fixtures (flood, spot, bollard, path, step, and wall). Fiber optic kits are also excellent to use as safety perimeter and accent lighting around swimming pools and water.
Low-voltage lighting is also simple to install and safe because it operates at only 12 volts. If you have tried using these lighting kits in the past and were not pleased, the new ones are magnitudes better and easier to install. Two-piece connectors make it simple to attach the lights to the main wire. The new halogen bulb models produce brighter light and enhance colors.
The best low-voltage lights are made of durable cast metal and are very stylish. I use double inverted tulip and polished brass spotlight models to highlight my hosta garden. Authentic stained and frosted glass fixtures light the area around them as they add a decorative touch to your landscaping.
Low-voltage simulated brick edging kits are ideal for marking a walkway or garden. The bricks have the wiring built into them and they snap together. You can make it as bright as you wish by using more or fewer non-lighted bricks between lighted ones. They can be connected in an arc for curved paths.
Instant Download Update Bulletin No. 441 - buyer's guide of 13 low-voltage/fiber optic lighting and brick kit manufacturers showing styles of lights, fixture materials (metal, cast metal, plastic), features, prices, many illustrations of the lights and tips for designing accent lighting for your home and landscaping.
Dear Jim: I have a screened-in porch which I would like to cover with insulated windows during the winter. What is the least expensive method to install good-quality windows over the screens? - Larry W.
A: For winter use in most climates, you will need to install double-pane windows similar to the ones for a house. You can make your own wooden frames so you can remove them during the summer.
Talk to some smaller local window manufacturers or installers in your area. They often have custom-made windows which the homeowner never ended up buying for one reason or another. You can usually buy these at a discount.