Search engine visitors - click here to access entire "$ensible Home" web site
"Super-efficient decorative steel front doors look as good as wood"
Click here to see a descriptive illustration showing several decorative steel front doors.
Dear Jim: I am considering replacing my warped, leaky wood front door with an insulated steel door for better efficiency and security. I saw attractive steel doors that resemble natural wood. Are steel doors a good choice? - Ned B.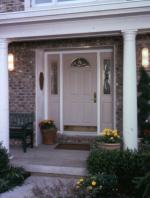 A: For overall performance, efficiency, security, and reasonable cost, insulated steel front doors are difficult to beat. Even though they have a steel skin that conducts some heat, the thick insulated core and thermal breaks give steel doors a much higher R-value than wood doors.
The best quality steel doors are made with modern manufacturing processes to produce crisper edge and panel details that rival painted real wood doors. With optional decorative glass and sidelights, it is difficult to distinguish a steel door from a wood door until you actually touch it.
The "natural-wood" steel doors you are referring to have a stainable coating over the steel skins. The coating is thick with authentic wood graining rolled into it. Each manufacturer offers its own staining kits, often in oak and walnut, so you or the contractor can produce the natural wood look you desire.
The type of glass you select for your steel front door has a tremendous impact on its appearance. The most decorative glass is beveled, etched and leaded. For energy efficiency, choose smaller windows, such as ornate ovals.
Smaller windows are also better for security. The decorative glass pane is often sandwiched between two outside panes. This creates two insulating air gaps, makes cleaning easier and is more secure. For the optimum security, order special super-tough glass/plastic panels.
Although most steel doors look similar on display in the store, there are significant quality differences among them. The thickness (a lower gauge is thicker) of the steel skin is an indication of quality. Thicker steel provides better stability, dent resistance and security against break-ins.
The hardware (hinges, latches, etc.) also indicates overall door quality. An insulated steel door, especially one with a lot of glass, can get quite heavy. Ball-bearing hinges provide the smoothest operation. Triple-point locking mechanisms and heavy-duty lock blocks are most secure.
All steel doors have a core. Foamed-in-place polyurethane insulation has the highest R-value. Another efficient option is a piece of polystyrene insulation fitted between the steel skins. Magnetic weatherstripping, similar to refrigerator gaskets, provides the most airtight seal.
If you prefer a decorative matching sidelight, select one that opens. This provides an extra 14 inches of opening when moving large furniture in and out.
Instant Download Update Bulletin No. 409 - buyer's guide of 12 insulated steel front door manufacturers listing finishes, styles (flush, glass, panel, sidelights, transom and sidelights), illustrations showing styles, insulation, metal gauge, hardware, warranties, decorative glass options, and efficiency and security features.
Dear Jim: It seems I have to run my clothes through the dryer twice to get them completely dry. I know the dryer duct is pretty long, but it does not seem to be blocked. Do you have any ideas about what is wrong? - Joan V.
A: Read through your dryer owner's manual and check on the acceptable duct length. Remember, each elbow or bend is equivalent to several feet in length. If the duct is too long, the air flow is impeded.
If the duct length is within specifications, make sure the lint filter and the vent flapper are clean. If all of these check out, call a service technician and have the dryer itself checked for proper operation.