Search engine visitors - click here to access entire "$ensible Home" web site
---

Dulley CD (194 Update Bulletins and columns) Order Information
Many readers have asked me if there is a way to get all 194 of my Update Bulletins at a reduced cost. This might be helpful to people building a new home, doing some substantial remodeling projects in their homes, or just want to reduce their utility bills. I reduced the utility bills in my own home by 75% from the previous owner's bills (more than $1,200 savings each year).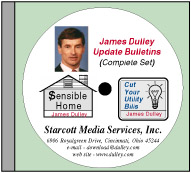 I burn all 194 Update Bulletins on a CD, along with a reference topics list, for each order, so the most recent changes and information are included in each CD. All of the related newspaper columns are included for background reference for each bulletin.
They are PDF files which you can view and print with your computer (formatted for a standard printer) at home with free Adobe Acrobat Reader. If you would like to review lists of all of the bulletins available, click on 194 Column/Bulletin List.
General Topics Categories
(total of 194 Update Bulletins)
Air-Conditioning
Appliances (Kitchen)
Appliances (Other)
Attic Cooling
Bathroom/Showers
Comfort/Miscellaneous
Doors (Entrance/Garage)
Electronic/Automation
Fireplaces/Wood Heat
Greenhouse/Sunspaces
Heating (Central)
Heating (Room)
House Construction
House Plans (New)
Air Quality/Allergies
Insulation/Caulking
Landscaping/Gardening
Lighting (Indoors)
Lighting (Outdoors)
Remodeling Projects
Roofing/Siding
Skylight/Light Tubes
Solar/Wind Power
Swimming Pools/Spas
Tools (Corded/Cordless)
Ventilation/Fans
Water Heating
Water Purification
Windows (New)
Window Improvements
The price of the Dulley CD is $35.00. To order my CD by mail, please send a check or money order payable to James Dulley, 6906 Royalgreen Dr., Cincinnati, OH 45244.
Thanks for reading my columns and for your order!